Daryll Swager
,

10 September 2018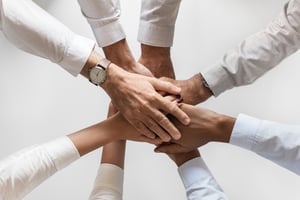 Today is day 90 for me at Avast Business. I've recently transitioned from leading a team of great people to becoming an individual contributor again, and have adopted a whole new group of work family members. We have a crazy talented group here at Avast.
The notion of spending half of my waking hours with my new colleagues caused me to start thinking about the similarities between your actual family and your work associates:
You hope that your family will be successful
You worry about your family members when they are sick or injured
You try to help your family when they need it, even when it's not fun
You want to protect your family members from harm of all kinds
All of these apply to both your actual family and your work associates, and they're all important. This last one, though, has me intrigued because I work for a company that provides cybersecurity products.
We provide IT specialists at Small and Medium Businesses (SMBs) the power to protect their work family from digital harm and liability. We do so in a single, cloud-based application that uses the power of two massive threat networks: our world-class antivirus network, and our new DNS threat protection network.
Today, we introduced Secure Web Gateway functionality into our CloudCare application. We have made this with the SMB in mind, made it affordable, and made all of the security layers available in a single pane of glass.
This layered security approach has a track record of being expensive for SMBs, because of the hardware/appliance costs, constant swap-outs of hardware as the business grows, and the difficulty level of supporting the IT needs of a growing business. The market has been underserved, with enterprise companies trying to fit their very large footprint into a smaller set of shoes. It doesn't have to be like that.
We've got two things that are interesting here at Avast Business, and I'm very proud of them both:
First, we've introduced enough functionality into our CloudCare product that layered security has become a reality, without the complexity and overhead of on-premise point solutions.
Second, we've done so in a way that will make IT folks who wear WAY too many hats be able to actually see what's going on inside the building, remediate issues, and stop cybercrime from becoming a problem at your business.
Don't believe me just because I'm saying it though. We have a couple of resources that you can take a look at which will help you make the right decisions about how best to protect your work family from digital harm:
And, for those that are having trouble evaluating security within their organization, we are currently offering a no-strings-attached IT security assessment. If you have visibility about your digital weak points, you'll be better informed as to which of the many challenges you need to address. Sure, we want you to save time and money with better tools, but what we really want is for you to be able to better protect your work family from harm. Just let us know how we can help.